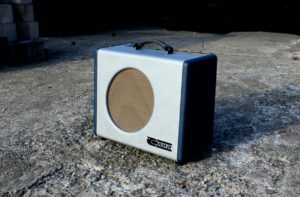 In 2003 Vintage Guitar's Carr Mercury cover story exclaimed 'Tone of the Gods'
Now, 13 years later, the amp that started the full featured, low powered, attenuated combo revolution — returns!!
The Mercury V, older British cousin of our award winning Skylark, is back with a highly evolved feature set borrowing the best of the past while rocketing into the future.
The Mercury V is highly touch sensitive with a huge range of English tones from 60s aggressive clean thru 70s rock into 80s and 90s tasty crunch. Our built in attenuator delivers real power tube overdrive at whisper levels retaining the feel and juice of full volume fun. Like recording on your computer? Just plug the Mercury V line out into your A/D interface and go! The Luscious Spring Reverb, full ranging Overdrive options, and effective tone controls make the Mercury V an invaluable recording tool. Home player? Experience big amp satisfaction with domestic tranquility. Gigging musician? 16 burly watts in full power means the Mercury V is a commanding stage amp. Mercury V wins the six string triathlon —- Home – Studio – Stage.
Plus, you get everything Carr is known for, in-house crafted solid pine dovetailed cabinets, bleeding edge power supply components mixed with Mid-Century signal elements, and true point to point wiring. The Mercury V – Scary Good!
16 Watts full output —- (Perfect Power)
3 Position Boost switch – British 60s thru 90s output tube overdrive – (Authentic)
Dual Volume controls – Classic Parallel or Modded Series toggle- (Big Stick)
Built-in switchable attenuator 16/3 to 0 watts- (Ultra Useful)
Analysis Plus and Transparent cable – (Super Conductive)
3 Band Tone Stack – Treble, Mid, Bass – (Control)
Recording/PA Line Out – (Effective Communicator)
Celestion Creamback M-65 12"speaker – (Pistonic)
Custom Carr Transformers – (American)
All NC yellow pine cabinet – (Wood)
Spring/Tube Reverb – (Aquatic)
2) 6V6 4) 12AX7 – (Trusted)
Retail/Street $2530 1-12 Combo – $2490 Head
Carr Amplifiers began in 1998 with an irresistible passion for hand wired vacuum tube guitar amplifiers. We take inspiration from the classics of the 50s, 60s, 70s, and 80s then imagine new features, refinements in tone, reliability, and ease of operation. Essential tone with organic tactile feel is our signature.
Man Made